Frames
---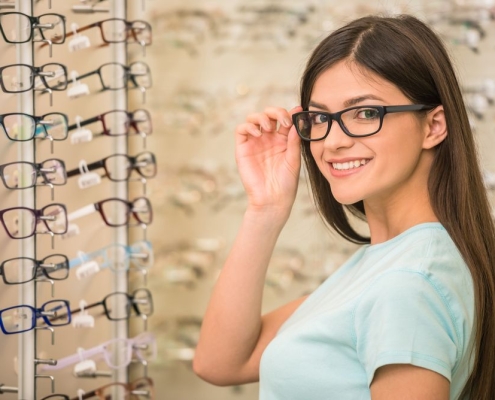 Be a Savvy Shopper – "We only get 2 eyeballs per lifetime…so do right" – Old Wise Man
Shopping online can be great for some products that aren't individually custom-made like prescription eyeglasses are; health and safety trump convenience when it comes to eyewear. Internet orders often result in incorrect prescriptions or other problems with products that are sent through the mail, costing consumers more time and money in the long run. According to a study conducted by the AOA, the Optical Laboratories Association and The Vision Council, nearly half of all glasses ordered online had either prescription errors or failed to meet minimum safety standards.
"Eyeglasses are an investment in your health and must be custom-fitted not only to be comfortable, but also to be precise so that you're actually benefiting from your most important sense." Dr. Loose
All of our eyewear options are fitted to the patient's lifestyle and physical needs by trained opticians.
Our number one goal is convenience, quality and service without compare. Even if you have no need for our doctors' services, we invite you to bring your prescription and browse our wide variety of eyewear. Below are just a few of the name brands that we carry:
Our Frame Styles
B.U.M.
Bennelli
Bongo
Bulova
Candies
Columbia
Costa
Dale Jr
Eddie Bauer
Eyes of Faith
Gant
Guess
Harley Davidson
Lacoste
Lilly Pulitzer
Nike
Randy Jackson
Ray Ban
Real Tree
Seventeen
Sketchers
Timberland
Veggie Tales
Vera Wang
Viva
Wiley X
Woolrich